At SEPA XML GENERATOR we are more than aware of the important of security, protecting clients and customers bank details.  And we have now increased and added another layer of security for all our SEPA Direct Debit and SEPA Credit Transfer clients by applying One Time Password functionality against the registered email address within each account.
But what is One-Time Password and how does it work at SEPA XML GENERATOR?
What is a one-time password (OTP)?
A one-time password (OTP) is an automatically generated numeric or alphanumeric string of characters that authenticates a user for a single transaction or login session.  And at SEPA XML GENERATOR our system sends a six digital numerical code, like this: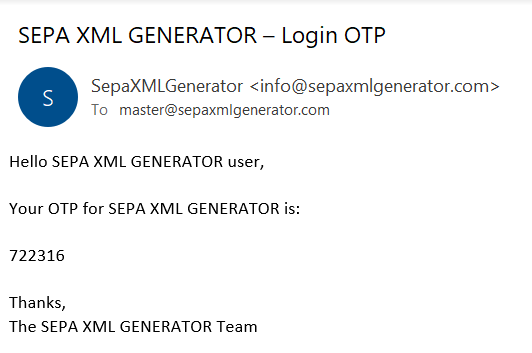 No user can login to the system unless they have access to an email address, their password and the One Time Password which is issued to the assigned account email address.  A new code is populated every time a user needs accesses the system.
So, there are is now an extra layer of security employed within the SEPA XML GENERATOR system.